There are two types of lessons offered: Choose either a private "beginning glass blowing" lesson or try a "taste of glass blowing"
How to choose?
The "Beginning Glass Blowing" lesson gives a solid
introduction to the basics of glassblowing. It is best for 1 or 2 students.
The "Taste of Glass Blowing" lesson is best for groups and nice for those who want to give a personal experience of this ancient art form a try.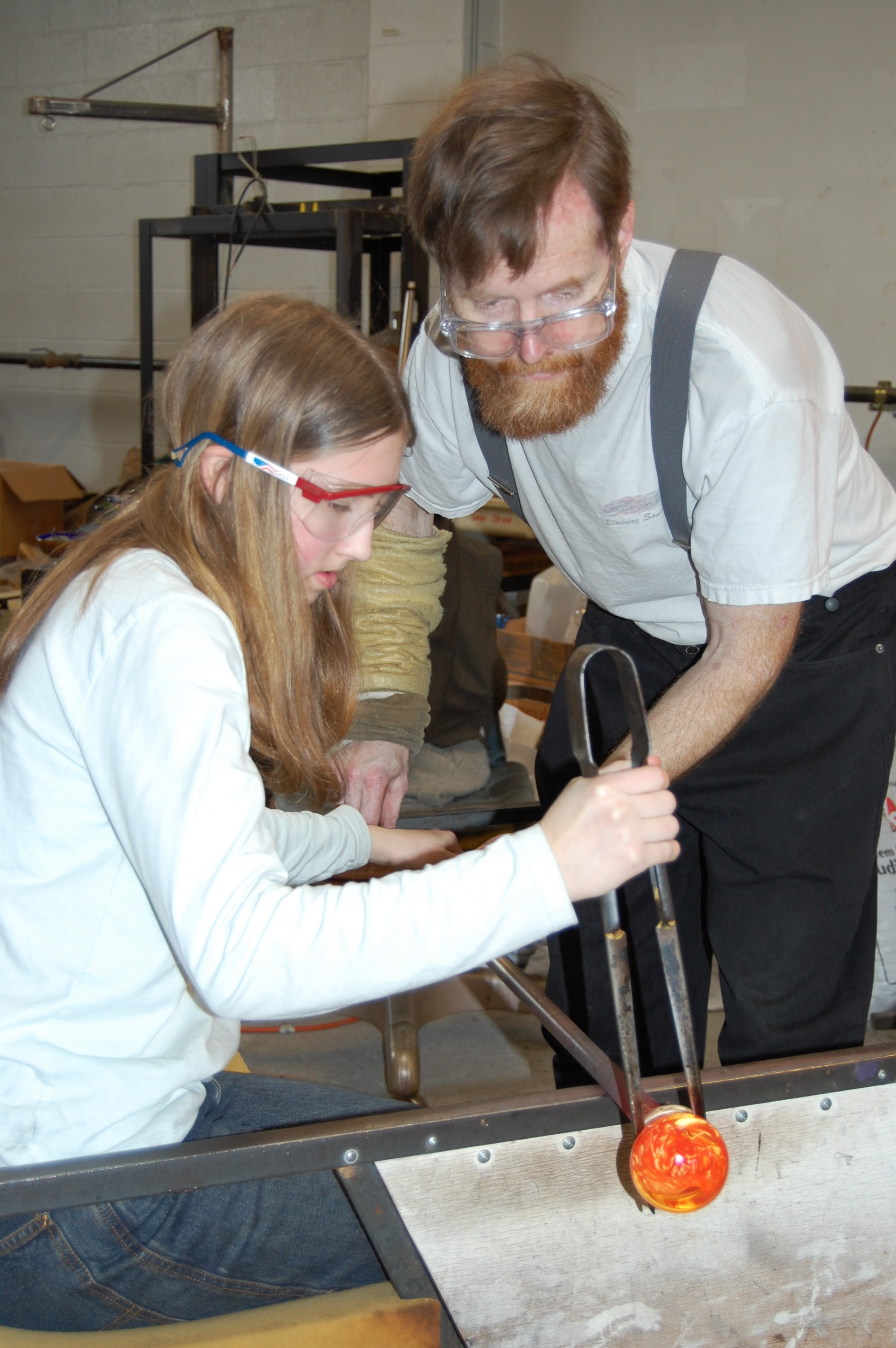 For an in depth class for one or two students:
BEGINNING GLASS BLOWING LESSON

Our beginning lessons are $180+tax for one student (two hours) and $220 for two students (2 1/2 hours.) Additional time can be booked. Your instructor is able to tailor the experience to the individual. The private lesson starts with hands on practice using colorless glass from the furnace. You'll go through all the hand tools to see how they are used to manipulate and shape the molten glass. After this you are ready to take another dip from the furnace, add some color to clear glass, and make a paperweight.
Next, the techniques learned are used to make a blown vessel. Options include making a small vase, bowl, or drinking glass.
All the glass made goes into the annealing ovento cool slowly overnight, then a diamond tool is used to engrave your name on the bottom. Pieces are ready to pick up by the end of the next business day.

Participants are asked to wear non-synthetic, long-sleeved clothing and closed-toed shoes.
OR Try Our
TASTE OF GLASSBLOWING PRIVATE CLASS
For one-to-16+ participants

We will happily schedule your teambuilding event, birthday party, troup outing, or group of friends for a glass blowing session at Blowing Sands Glass Studio. We can also schedule this class for individuals or couples who would like a "taste of glassblowing" to come in and try out a new experience.

Participants can blow:

| | |
| --- | --- |
| An ornament ($30 +tx each) | paperweight ($35 +tx each) |
| | | |
| --- | --- | --- |
| heart ($40 +tx each) | sea float ($50 +tx each) | starfish ($50 +tx each) |
| | |
| --- | --- |
| pumpkin ($55 +tx each) | bowl ($55 +tx each) |
| drinking glass ($65+tx each) | small vase ($90+tx each) |
All glass must go into the annealer overnight for a slow cool and will be available for pickup the next business day. Pariticpants are asked to wear long-sleeved, non-synthetic clothing and closed-toed shoes.
Available on request: Fluted bowl lesson, $90+tax


Call or email to schedule your event!
blowingsands@hotmail.com
206-783-5314