Ballard
---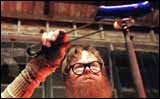 Glass artist Smith more than 'just a potter'
Originally published Saturday, November 20, 1999
By JON HAHN

SEATTLE POST-INTELLIGENCER COLUMNIST
The white-hot crucible full of molten glass had just sprung a leak during peak holiday production, requiring at least a week of down time to repair and rebuild, and David Smith was stroking his great red shock of beard, "contemplating" his situation.
More temperamental artists would consider kicking the bleedin' box of fire, but that would spill molten glass all over the floor of his 800-square-foot Blowing Sands glass studio in a converted Ballard warehouse. Besides, his arthritis on this cold autumn morning wouldn't stand the abuse.
The soft-spoken 39-year-old Smith seems not given to great fits of passion so much as he is inclined to seek and find the gentle way. And the sure way. As a Massachusetts Institute of Technology material science and engineering graduate, he has what he describes as "huge aspirations for glass art. I think I was born with a brain hard-wired for ceramics and material science. And I can make that furnace sing!"
But also a man whose life and soul are filled with music: "When I'm playing the fiddle, I'm searching for the mystery in the music that is there, knowing I will never quite reach it."
Since his 1978 graduation from Juanita High School, Smith has been something of a "Weltenbummler," a fellow who has wandered the world and studied and worked his way from China to France to Great Britain and Norway, Finland and Canada. He survived by repairing bicycles bound for Africa and chopping wood and working in potteries and glass companies in Finland. But mostly by playing self-taught fiddle on the streets of whatever town, in whatever country he happened through.
He calls himself "just a potter," as he downplays his own talents as a fiddle player with an ear and heart for Celtic music. The ceramics he knows from the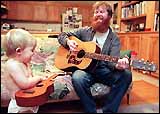 crystalline and chemical structures as well as historic and artistic sides. "My thesis was on French soft-paste porcelains," he says matter-of-factly.
After college and failing to find a good ceramic engineering job, he returned to Seattle and taught glass blowing while he worked in a rental studio at the Pratt Fine Arts Center on Capitol Hill. He held glass-production jobs in and around Seattle for several years before developing the arthritis that limits his working strength.
And that lasted about two years, until a friend convinced him to travel to China. That trip launched him on his world travels that went next to Finland and eventually to Europe, Great Britain, Scandinavia and eventually back to Puget Sound.
He chuckles when telling of his first night playing on the streets of Ireland's Wexford City: "The first person who came along stopped and walked up to me while I was playing and said: 'You're not Irish, are you?' "
But he survived more than three years as a street musician, picking up occasional jobs in ceramic and glass studios, or orchards or bicycle shops, and picking up the languages and melodies of the various countries and cultures he had wandered into. "It helped that I was a vegetarian -- something I started in college -- and I had a very cheap car, a Russian Lada, and I'd buy cabbages and carrots and whatever, wherever I went. Sometimes I'd splurge and toss in a can of tuna fish."
He doesn't smoke but likes a pint of dark beer now and then, and also red wines. His brother Peter, with whom he loves to play Celtic music, describes him as "extremely non-materialistic. I live on a houseboat and fly a seaplane, but David lives on a friend's rather small boat in Ballard and exists as cheaply as anyone I've ever seen. It's not a matter of having to stretch a dollar as much as his having decided how much he doesn't need."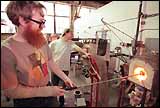 After a five-year hiatus during which he saw his family only twice -- David's parents met him in Finland, where his mother's family had roots, and again in Ireland. He returned to the United States eight years ago.

"I immediately moved to Vermont, partly because I'd met a nice woman from there while I was in Ireland." He found work at a glass company in Cape Cod awhile, then drove back home through Canada. "I played music all summer, all the way across Canada," he said of his prodigal return.

He scouted Bellingham, Port Angeles and other areas before choosing Ballard for a studio space. His studio is carved out of a cavernous old hardware manufacturing building on 14th Avenue Northwest, shared with a half-dozen other artists and artisans.

Smith's original glass works, comprising drinking glasses and goblets, vases, exquisite glass eggs and paperweights and other more whimsical objects that resemble sea conch and other organic shapes, are carried at Made In Washington outlets and Fremont's Edge of Glass Gallery, 513 N. 36th St.

Because arthritis has limited his mobility, dexterity and endurance, Smith works how he can, when he can, and for as long as he can -- usually several hours daily, seven days a week. "It does affect my work and lifestyle," he conceded. "But you have to go on living and working anyway, so I choose whatever job I feel like doing. And if my feet or legs are bad, I sit at my grinder and polish glass until I feel better."

And where others might complain of the gas furnace heat, he allows as how "it sort of helps my arthritis. And the glass work involves gentle stretching in front of the ovens, so it's not as bad as you might think." That his parents included a sauna in their remodeled home pretty much ensures that David visits about twice weekly. "I always feel 100 percent better after an hour in the sauna," he said.

Smith, faced with his biggest production period of the year, contemplated the big glass-furnace repair and rebuilding job. "Oh, I can do it all right," he said, stroking his red beard.

David Smith's work also can be seen in the Best of the Northwest Show, Nov. 19-21, at the Seattle Center Exhibition Hall. The 4512 Studios -- the complex at 4512 14th Ave. N.W. where Smith works -- opens to the public on Dec. 3-5. Information at: 783-5314.
---
Jon Hahn is a staff columnist who writes three times a week in the P-I. He can be reached at 206-448-8317 or e-mail him at jonhahn@seattle-pi.com